With the rapid pace of change drove by new digital technologies, businesses progressively need to be more agile in order be competitive. The future workforce will be organized by multidisciplinary teams working around projects, service or product lines, rather than by job function. This requires a new workforce with a new set of skills, and some new ways of working.
Agile has different meanings in the real estate and workplace industries. For some, being agile is related to being flexible and portable, with a model of unassigned stands such as hot-desking or hoteling. In the technology industry — agile refers to iterative development methodologies. In a world, where solutions evolve through collaboration, and focuses on the incremental delivery of individual pieces or parts of the software and not on the entire application.
In the tech industry, where software development is extremely competitive and speed to market is crucial, designing places to support agile work methodologies by our studio are essential. We see that software development has evolved to an increasingly collaborative activity: self-organized, multidisciplinary teams working in fast-developing cycles often divided into minor tasks (increments) that are developed iteratively in cycles (sprints) of a few weeks. Successful agile teams enjoy their process and milestones, and stay attached to their customers' requests. The agile approach to problem solving includes transparency and information display: information such as workflow and progress must be visible to everyone, so teams and visitors can learn from one another, stay focused, and offer assistance when needed.
For the designers at T+R studio, it is essential to offer a variety of multifunctional spaces for the client's teams in order to get together and quickly post their ideas to keep workflow moving. For example, T+R studio created a new accelerator space for Allot. Allot is a leading provider of innovative network intelligence and security solutions that empower communications service providers (CSPs) and enterprises worldwide to enhance the value they bring to their customers. The company celebrates its industrial heritage while driving innovation forward into the future supporting flexibility of work and information on a place that supports work process, information flow, and transparency.
Visible and transparent spaces help teams to avoid distractions and interruptions, while team spaces are complemented with spaces for quick interaction.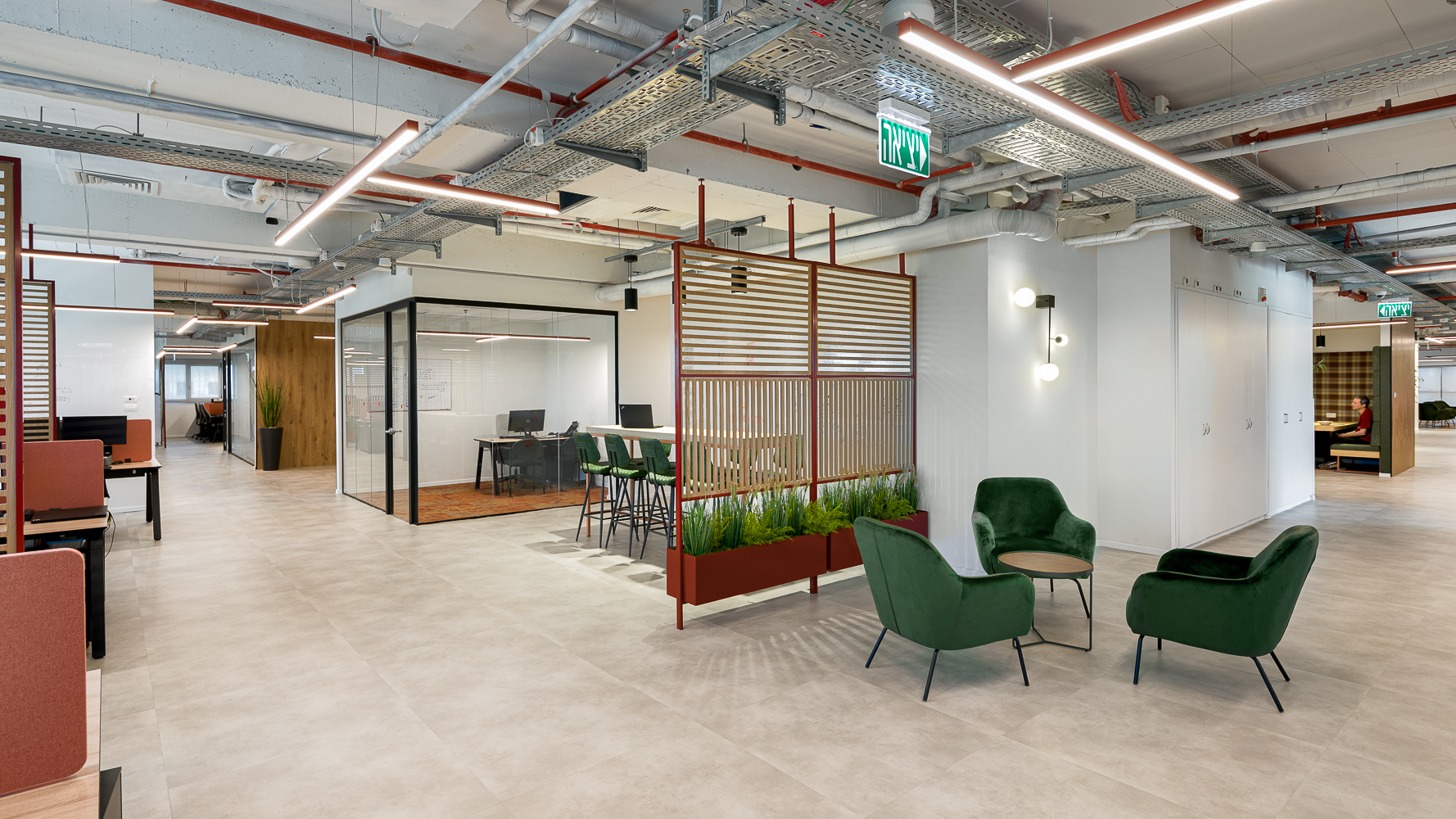 The corporate workplace has gone through different stages over time, providing workers with a variety of space types and encouraging them to move inside – and outside – the office. We encourage people to use a variety of spaces (individual, collaborative, open, and enclosed) instead of a single desk. If the person is at the center, this is an "eccentric" model, as illustrated below.
Designing for agile teams requires a slightly different approach. Space must support the fluid nature of agile work and the team as a key component, as opposed to the traditional linear and individual approach to work and place. For an agile team, proximity is key.
The most important area is the team space — that is the home for the tribe, helping foster a sense of identity and cohesion. All support spaces – conference rooms, amenities, and services – should be brought as close as possible to the team to help them switch to a different activity, display and celebrate their progress, or simply relax. More industries are embracing and supporting agile teams, recognizing that this way of working has the potential to accelerate innovation and collaboration, with a heightened focus on the customer. While the physical workplace may vary, the future of work is agile, and, it is here to stay.